ABOUT US
OUR STORY
From commissioning its first district cooling plant in Sweihan, Abu Dhabi in 1999 to 73 plants today across the GCC, Tabreed has defined the region's cooling excellence standards with an unwavering commitment to quality, safety, and efficiency.
Built on a successful track record acquired over the last 20 years, our partners trust us to deliver innovative and reliable solutions that meet their cost and operational efficiency goals as well as drive energy efficiency and sustainability.
As a UAE-based regional utility leader, Tabreed offers stable financials returns and shareholder value as a publicly listed company on the Dubai Financial Market.
1998

DATE OF ESTABLISHMENT
Abu Dhabi
VISION
"To be the
LEADING COOLING PROVIDER
by utilizing
SUSTAINABLE, RELIABLE &
COST EFFICIENT

energy solutions."
MISSION
"CREATING VALUE

through

OPTIMIZING, INNOVATING

and

STRIVING
for
OPERATIONAL EXCELLENCE

to exceed stakeholder expectations,
whilst
PROTECTING PEOPLE, ASSETS AND ENVIRONMENT."
VALUES

JASIM HUSAIN THABET
CHIEF EXECUTIVE OFFICER
Jasim Thabet is the Chief Executive Officer of National Central Cooling Company PJSC (Tabreed), where he is responsible for overseeing the district cooling company's operations in the UAE and across the GCC, as well as ensuring the company continues to generate sustainable and long-term value for all its stakeholders.
Dr.Yousif Al Hammadi
Executive Vice President - Key Stakeholders
Richard Rose
Vice President - Finance
Dr. Afif Harhara Al Yafei
Vice President - Regional Asset Management
Ahmed Abdulla Al Marzooqi
Vice President - Human Resources

Sabooh Asghar
Vice President - HSE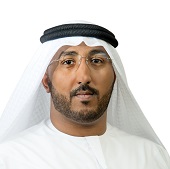 Atef Al Breiki
Vice President - Operations and Maintenance

Irshad Hussain
Vice President - Projects

Alastair Mulligan
Vice President - Asset Management

Sudheer Perla
Vice President - Business Development

Colin Stuart Sangster
Vice President - Internal Control and Risk
Souad Jamal Al Serkal
Vice President - Corporate Communications